Site Updates:
[December 6, AD 2022] The HQ-Grid is now open source! Visit https://github.com/wastelandrangerhq/hq-grid to submit a pull request via GitHub for any contributions to this community site.
[October 5, AD 2019] Added Fallout 3 chronicle Tycho's Saga: Conscience of a Wastelander!
Related note: I know many parts of the HQ-Grid have fallen into 404. I've been trying to fix broken links, but if you find some I didn't find, please contact me so I can fix them in the next update. Thanks!
Updated: Main page, Reading Room.
Read past updates to this site here.
Wasteland History: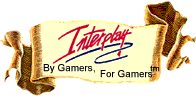 1984: Brian Fargo founds Interplay Productions.

1988: Wasteland is programmed at Interplay Productions under the leadership of Alan Pavlish. It is distributed by Electronic Arts for the Apple ][ platform. Wasteland is also released for the Commodore 64 platform. The game is ported to the IBM platform by Michael Quarles in A.D. 1988. (See image of IBM PC edition box cover, right. Image is also a hyperlink to a bigger-sized image of box.) Wasteland becomes the number one best-seller of the year.

Developers of the game pose for a publicity photo. Several versions are out there. Some are below.

Ken's caption for the middle picture: "In my humble opinion, this is one of the best pictures of me ever taken. I'm the guy wearing the leather vest and the brown fedora. Mike Stackpole, best-selling Star Wars novelist is in the black leather jacket. Alan Pavlish, chief programmer is the red-haired guy with the bandana. It was 110 degrees F. out there on the dry lake bottom that afternoon, and we were all dressed up in twenty pounds of leather and heavy clothing. Those were the days! This picture was taken in 1987." [Source] 1988: Wasteland wins Computer Gaming World's Adventure Game of the Year. [unknown]: Development of Meantime begins on the Apple ][ platform. This game, originally thought to be a sequel to Wasteland, is never finished. Only in 2002 was it made widespread knowledge that this game was not, in fact a sequel to Wasteland.

1990: Electronic Arts releases a game that uses a similar game engine as Wasteland. This game, Fountain of Dreams, is set in post-war Florida and attempted to play off the success of Wasteland. With significantly smaller game replayability, plot, and scenario, this game nonetheless explores the scenario where not only the creatures have mutated, but you have, too. (See image of IBM PC edition box cover, left. That's a scan of my copy's box-cover with my name in lower right corner blurred out. I bought the game new off the shelf, probably at Babbage's, heh. :) Image is also a hyperlink to a bigger-sized image of box.) September, 1993: Ghostwheel MOO, a post-apocalyptic MOO heavily influenced by Wasteland, opens its doors.

1995: Wasteland tours the computer gaming world as part of the Interplay 10 Year Anthology CD, a collection of award-winning Interplay games on CD-ROM. (See image of box cover, right.) If you have this CD-ROM, then you have the "post-setup files" version of Wasteland. You'll want to check out the Unofficial Wasteland Reset Program which simulates the setup.exe program, which allows you to reset the maps (and thus win multiple times with the same crew of Rangers). September, 1996: In September of 1996 Yahoo! creates a hierarchy listing exclusively for Wasteland. It's moved around a bit, and who uses directories any more anyway, vs. a search engine, but still, its present location is here, and it looks like there's only one link left. :) November, 1996: Computer Gaming World magazine releases a list of the top 150 computer games of all time. They rank Wasteland 9th. Read the review of Wasteland by Computer Gaming World. Additionally, a variant release of the magazine has a "CG-ROM" with demos and games on it, and the "post-setup files" are included. Here are some tips on installing the November 1996 CG-ROM copy of Wasteland. If you want to reset your games, try using the Unofficial Wasteland Reset Program.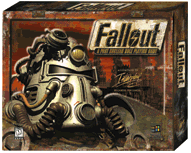 October, 1997: Interplay Productions releases Fallout, a post-nuclear war role-playing game. (See image of box cover, right.) Look familiar? Yes, it's Wasteland for the 90s! Also this month, Computer Gaming World Magazine distributes Wasteland again, including it on the CG-ROM bundled with their October 1997 issue. Coincidence? I don't think so! The files on the disc are the "post-setup files," which means you cannot reset the maps or characters, etc. This time, they also forgot to include the paragraph book entries. (You can find the complete text of the Paragraph Book entries at the Wasteland Underground.) January, 1998: Computer Gaming World's January 1998 issue has a Hall of Fame on page 370. Listed among this "Cooperstown of Computer Games" which "broke the records, established the benchmarks, and held gamers in delighted trances for hours untold," is Wasteland. "Derived from Mike Stackpole's Mercenaries, Spies and Private Eyes, this is the definitive post-apocalyptic RPG," the article notes.

Also this month, Interplay re-releases Wasteland in a new collection of computer role-playing games, through their DragonPlay division (which was later regrouped as Black Isle Studios). It is called The Ultimate RPG Archives. (See image of box cover, right.) March, 1998: Enter the Wasteland Ring, a web ring devoted to Wasteland home pages. Thanks to Ranger T. Gray for the work in putting this together. Link your site today! September 22, 1998: Snake Squeezins, an eGroup (now a Yahoo! Group) for discussing Wasteland, is created by Ranger Ben. (Yeah, me!) It's still around, and hosts the biggest number of dedicated, active and talkative Wasteland fans.

October 30, 1998: Black Isle studios releases Fallout 2 (See image of box cover, left. Image is also a hyperlink to a bigger-sized image of box.)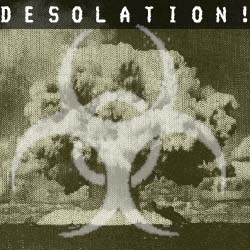 November 19, 1998: Desolation!, a Wasteland MUD, opens its doors for development. (See Desolation! logo and link, right.) January, 2000: Wasteland is inducted into the gamespy Hall of Fame. February 1, 2000: MobyGames reviews Wasteland in their second Feature Article.

March, 2001: Microforte' and 14° East, in partnership with Interplay, releases Fallout Tactics: Brotherhood of Steel, a strategy game that takes place between Fallout 1 and 2. Characters in this game are new recruits in the Brotherhood of Steel. January 24, 2002: Brian Fargo, CEO of Interplay Productions, resigns. For those keeping score, Brian Fargo founded Interplay in 1984 and was part of the original design team for Wasteland. Read the full story of his resignation (archived from an article no longer found on http://ocregister.com).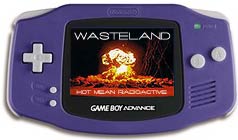 March, 2002: The Flangy News announces the arrival of a port of Wasteland for the Game Boy Advance. This has to be the best Wasteland hoax of all time! April 2, 2002: Wasteland receives a bit of free press from GameSpy.com, in part II of their article on Computer Role-Playing Games, by Andrew S. Bub. Part II is entitled "Computer Role-Playing Games - Part II: Gold Rush & Beyond." Page one has the sub-heading: "SSI's Gold Rush, A Vast Wasteland & The Underworld of Ultima." June 13, 2003: Brian Fargo and his new game company, inXile, acquire the rights to Wasteland with the United States Patent Office. Soon after, Mr. Fargo shows up at Snake Squeezins to ask for comments about the game from its loyal fans. He notes the reason he didn't get the rights sooner was that Electronic Arts was sitting on them. When they expired, Konami grabbed it for use with their Yu-Gi-Oh series, but they were kind enough to let him have the trademark back. And the new Wasteland will be "darker in nature than the first one," and touts that it will be "very much an old school RPG that uses the skill systems, open ended nature of design, and puts the player into a world that is not black and white but shades of grey." Fall, 2003: Interplay again starts work on Fallout 3 and calls the game "project Van Buren."

December 9, 2003: Interplay shuts down it's Black Isle Studios division, and Van Buren along with it. January 14, 2004: Interplay releases Fallout: Brotherhood of Steel, a Xbox and Playstation 2 console game very loosely based on Fallout's world, is released. It's a third person shooter and reports are that it has lots of factual errors in portraying the Fallout world and doesn't really have much to do with the previous Fallout titles.
July 12, 2004: Bethesda Softworks LLC, a ZeniMax Media company, announces it has licensed the rights to the Fallout franchise from Interplay Entertainment Corporation. Full press release.

October 28, 2008: Bethesda Game Studios' Fallout 3 published by Bethesda Softworks. Many Downloadable Content expansions are also released.

October 19, 2010: Obsidian Entertainment's Fallout: New Vegas published by Bethesda Softworks. Many Downloadable Content expansions are also released.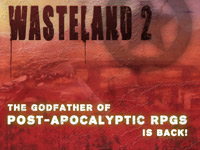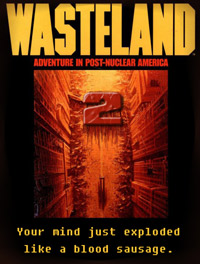 March, 2012: inXile Entertainment kicks off their Wasteland 2 web presence. Their blog is called The Wasteland Chronicles. Their forums are named The Wasteland Survival Guide. Brian asks me to moderate the forums. I'm honored, and totally ecstatic to be involved. A kickstarter campaign soon followed. They hoped to raise $900,000 USD. They reached their goal in 42 hours, 30 minutes. Final count is over 3 million dollars between kickstarter and paypal donations! Expected release date is October, 2013. Pavlish, St. Andre, Stackpole, Danforth, and Dugan are all invited to be on the design team by Fargo. Fargo also snags Chris Avellone of Fallout fame. Awesome!

April, 2012: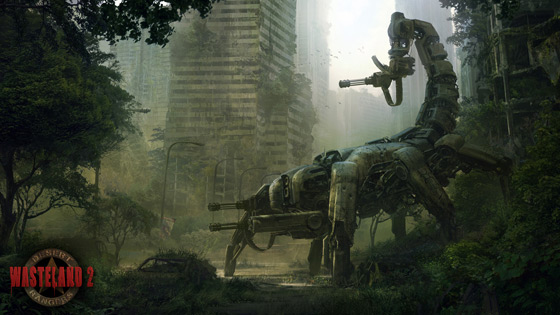 Scorpitron 2.0! Yikes!

Get Wasteland:

"Ok, I've read enough! How can I get Wasteland?" you may be saying. First of all, before you ask, please note that I won't be putting Wasteland up for download on the HQ-Grid due to copyright laws; nor am I in the practice of pirating my original copy over e-mail. I hope you can get your own Wasteland original! You won't be disappointed. Electronic Arts still owns the distribution rights even though inXile got the copyright on Wasteland back. So... search eBay. They periodically have listings for the game in one of its various incarnations.

The Credits:

This site is the brainchild of one person, and is maintained by the same: me! In my radioactive circle of friends, I am known as Ranger Ben. I have played Wasteland on the PC since 1989 and got the crazy idea to put up a web page about it when I was introduced to the Internet in 1995. When not editing, revising, and writing e-mails about Wasteland, I work a civilian job as a software engineer for a retail software company.

Special thanks go out to my older brother for coming up with the name for this site back in its infancy. Also, special thanks to my younger brother who has won Wasteland more times than he can count, and as a result is one of my best sources for all radioactive things.

And finally, the current look and feel of The HQ-Grid could not have been possible without the contribution of Ranger J. Tirrell. Read all about his contributions to this site at the The Wasteland Ranger HQ-Grid Site Graphics page.

Additional thanks go out to the multitudes of persons who've written with comments about and contributions to this site, including Alan Pavlish, Ken St. Andre, Liz Danforth, Nishan Hossepian, Mike Stackpole, Bruce Schlickbernd, Charles Weidmann III, Burger Becky Heineman, Bill Dugan, and the folks past and present from Interplay, EA and inXile.
wastelandrangerhq.github.io/hq-grid is hosted by GitHub Pages.

This webpage complies with the W3C XHTML standards.


We rated with RSACi!
All pages in this domain are Copyright © 1995- Bernard Assaf.
Interplay, the Interplay logo, "By Gamers. For Gamers." are trademarks of Interplay Entertainment Corp. All Rights Reserved.
Wasteland and Wasteland artwork © 1988 Interplay Productions. All rights reserved.
Wasteland packaging artwork, Fountain of Dreams, and all Fountain of Dreams artwork are Copyright © 1990 Electronic Arts. All rights reserved.
Fallout and Fallout artwork are Copyright © 1997 Interplay Productions. Fallout is a trademark of Interplay Entertainment Corp. All rights reserved.
Fallout 2 and Fallout 2 artwork are Copyright © 1998 Interplay Productions, Inc. Fallout 2 is a trademark of Interplay Productions. All rights reserved.
Fallout Tactics: Brotherhood of Steel © 2001 Interplay Entertainment Corp. Fallout Tactics: Brotherhood of Steel is a trademark of Interplay Entertainment Corp. All Rights Resrved.


Listed at Interplay's Assorted Gamers page.
---


Awarded Dreg of the Day for October 29, 1996 by Dana Hughes. (Dregs of the Net website now defunct.)
---


gamespy used these pages extensively for their January 1999 review of Wasteland.